Keep Your Lawn Beautiful and Healthy
Rely on Our Experienced Pros
The new, experienced team at Linn Cooperative is eager to provide professional lawn care, tree care and pest control services to the communities we serve in east-central Iowa.
We value your time and we'll come to you to discuss your needs. Our goal is to meet your objectives and earn your business as a customer year after year. We're here for answers and assistance, and we'll communicate with you in the manner that works best – email, phone or text.
We also offer a wide selection of products and advice for customers who prefer to do their own lawn care. Products included: fertilizer, weed control, seed and erosion matting.
Contact us for an assessment, and one of our five certified technicians will come out to look and let you know our recommendation.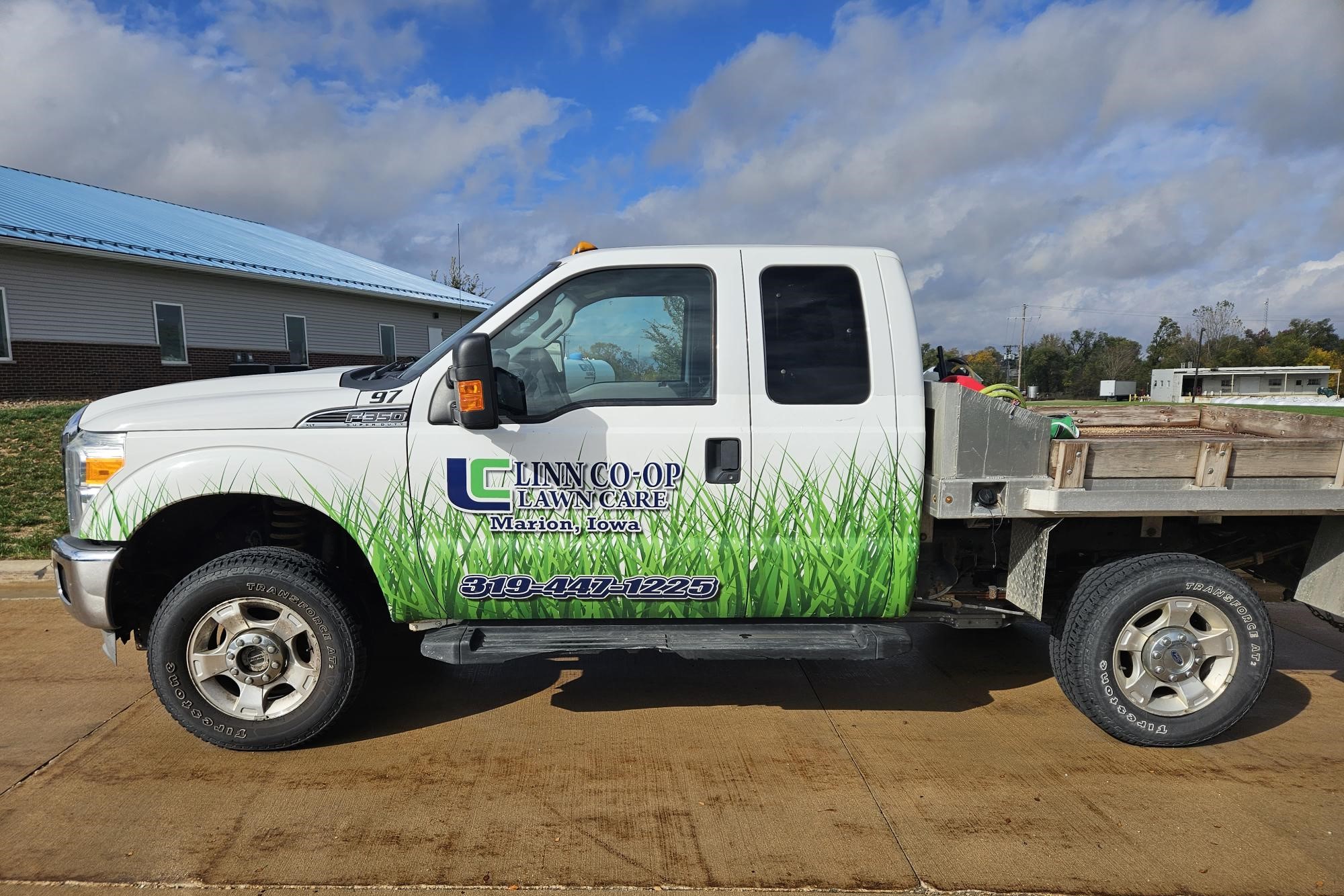 Call today for free estimates and information on all lawn care services or submit our online form below.
Lawn and Tree Care
Our lawn care program is based on a five-treatment program of granular products. We prefer granular products because we believe they are easier on the lawn and won't burn like liquid products can. We also watch for weed problems as the season goes on and can apply post-emergent herbicides as necessary.
We exclusively use D&K Turf Products for fertilizers, chemicals, seed. This Iowa-based company has roots in our area, and they are another resource for our technicians and customers.
Our people
All our technicians are certified through the Iowa Dept. of Agriculture, and they receive ongoing, continuing education through Iowa State University extension.
Aeration [Spring & Fall]
Core aeration pulls plugs 2-3 inches in length. For a healthy lawn, shoot for 1/2 to 1 inch of thatch.
This will do the following:
Improve fertilizer intake

Improve nutrition intake

Encourage deep root development

Reduce water runoff

Improve soil

Reduce thatch

Reduce Soil compaction

Increase protection against drought, insects, disease & weeds

Provide thicker, healthier, greener lawn
Pest Control
PYB - Pest Yard Blanket

Blanket application of insecticide that helps with insects that are in the turf area.

Such as:

This application will last 4-6 weeks and there are up to 6 applications.




PPC - Perimeter Pest Control

Insecticide applied 3ft up and 3ft out around your house and garage.

Protect against:

Spiders
Earwigs
Ants
Boxelder bugs mites
Ladybugs

This application will last 4-6 weeks and there are up to 6 applications.



Veg Control
Runs monthly through the growing season
Spray landscape beds, mulch beds, tree rings, & hard surfaces on your property
2-3 weeks and should see things starting to die
Up to 6 applications
New tree services!
Tree injections for insect and disease prevention, nutrient deficiencies. This method is more effective than spraying, and there's no chance of problems with wind or contact with chemicals. It lasts longer than sprays and is 100% effective. Pricing is based on the problem with the tree and the size of tree.
We now offer emerald ash borer prevention.
Call for us for a quote on these and other tree care services.
Rodent Control
Rodent exclusion using interior/exterior pest management equipment
Interior traps
interior mouse snaps
Exterior bait stations
These services also include an integrated pest management overview to help prevent pests from entering you building and to point out structural inefficiencies.
Lawn Maintenance
Mowing height during spring & fall = 2 1/2 to 3 inches. Summer months mower should be set no lower than 3 1/2 inches, which also helps with weed pressure. Never mow more than 1/3 of the grass blade off at one time. This means mowing multiple times a week in the fast-growing months.
Don't forget to do preventative maintenance on your mower once a month. This includes checking oil and sharping your blades. Dull blades tear the grass rather than making a clean cut.
In the summer months try not to mow at the hottest time of the day.
Ideal not to mow when there is a dry period.
Watering should be done in the morning between 4am and 9am.